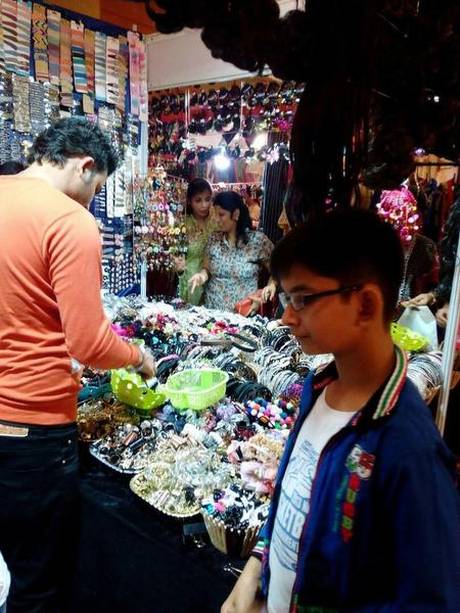 The Fashionista show features a range of jewellery, bags, saris, ethnic and western wear from across the country
Reds and pastels looked at me from the exhibition wall. Intricate and carefully woven designs marked every piece of art in display. Designers were busy explaining various features to customers who were trying to choose from the array of products.
This was at the Fashionista exhibition at Vivanta by Taj Surya. Featuring around 50 designers from across India, the exhibition had jewellery, bags, saris, ethnic and western wear.
Reshma Ahuja, Chief designer of DL Designs, was a paramedic before she started designing clothes. This Mumbai-based designer said, "My husband is into textile export and that opened a new platform for me to unleash my creativity. When a customer is appreciated for the dress that she is wearing, it is I who indirectly get the complement." Her ethnic wear ranges from ₹1000-2000.
People interested in precious and semi-precious jewellery were at the Evania stall. The brainchild of Suvarna Suchindran, this five-year-old business creates customised handcrafted jewellery in gold, silver and semi-precious stones. "My company started very simply. My friends liked the jewellery I made and that gave me the push to turn it into a business. Even now I work from home. I like understanding what my customers want when designing for them." This self-taught artist believes that all it takes is hard work and creativity to be a successful designer.
Designer denim and canvas bags are the highlight of Signa bags. These handcrafted bags come with their signature pockets for mobile phones. According to the designer, Chitra Devi who is from Coimbatore, these bags are durable and eco-friendly. She says "I started this company after finding it difficult to get good quality denims bags. Being a shopaholic myself, this is the industry I always wanted to be in." With a price range of ₹399-1200, these bags come in a variety of styles. Pointing at one, she said, "I get my inspiration from everywhere. This design, for instance, is inspired from the shape of an octopus. I love experimenting with designs."
When and where
Fashionista will be on until June 4 at Vivanta by Taj-Surya. Open from 11.00 am to 8.00 pm Call 9290600200 for details
Why you should pay for quality journalism – Click to know more